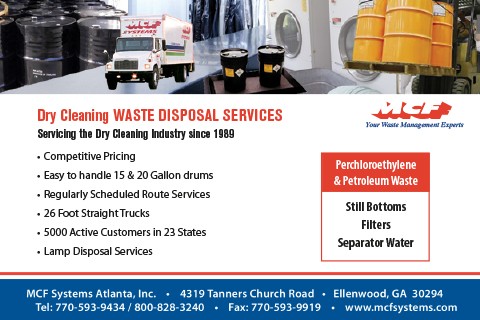 MCF Environmental Services, Inc.
Company Description
Cost Effective Dry Cleaning Waste Management Services
MCF Environmental Services, Inc. provides waste management and disposal services for dry cleaners. MCF has serviced the dry cleaning industry with regular scheduled collection programs in over 30 states for the past 30 years. We are always a phone call away from quickly answering your questions or addressing your waste management issues.
If you tired of dealing with dry cleaning waste management companies that our expensive, have unreliable collection services and don't provide the customer service you expect, then you should contact us right away.
Why Dry Cleaners continue to Choose MCF Environmental Services, Inc:
• Reliable scheduled route service on a consistent basis.
• Cost effective services – saving you money.
• Empty containers are furnished as part of the service.
• Provide 24 hour generator DOT required emergency response contact telephone numbers for shipments on an MCF Manifest. (Annual service charge will apply)
• Drivers are assigned to the same routes, personable, reliable and highly professional with scheduled collection services.
• MCF's proprietary EPA manifest tracking and waste generation reporting system can produce customized reports to help you better manage your costs and compliance.
• Dependable account representatives are assigned to each medical facility to get to know your staff and understand your business.
• Prompt and reliable customer service that will return your call the same day.
• Serving the Dry Cleaner with "A Cleaner Solution" for 30 years. in the waste management business.
MCF Environmental Services, Inc. specializes in the recycling and disposal of hazardous and non-hazardous dry cleaning waste that is generated by the industry. Perchloroethylene (Perc) and Petroleum (Petro) contaminated wastes are categorized for appropriate recycling, treatment and disposal. Containers with 15-20-55 gallon capacity are used for waste accumulation and transportation. MCF drivers receive annual training, and certifications to insure safe and proper handling and transportation of your waste. Certified drivers efficiently transport your waste materials throughout the Southeast, Mid-Atlantic and Mid-West states to a properly permitted Treatment, Storage or Disposal facility. We offer regularly scheduled route pick-up services for your waste material, proper waste identification, complete documentation and shipping papers, loading of containers, transportation and disposal.
Categories
Professional Services

Environmental Site Investigation, Remediation
Hazardous-Waste Services
To Top