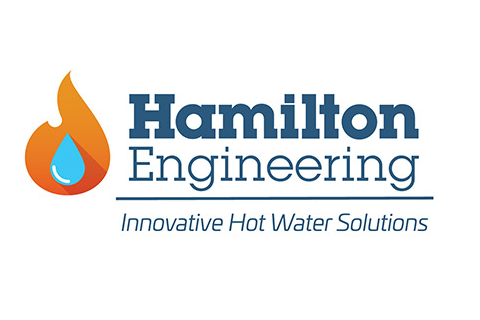 Company Description
Hamilton Engineering manufactures custom engineered, pre-packaged hot water solutions for commercial and industrial applications. Hamilton works in a wide variety of industries, including hospitality, institutional, commercial laundry, military bases, and many others.
Since its inception, the company's philosophy has remained unchanged: to provide the customer with the highest quality packaged water heating and building/ process heating systems at a competitive price, and to give the best available service and sales support in every industry the company serves.
Hamilton's primary line for traditional Dry Cleaners and Shirt Laundries is the Eliminator, a water heating product that provides "free" hot water from the wasted energy in your return condensate. For more extensive facilities, our EVO family of high efficiency condensing water heaters operate at up to 99.8% efficiency. These models range from 136,000 BTUs to 6,000,000 BTUs per unit and can be combined to provide an enormous range of BTU outputs. We also offer a lower cost line of copper finned products that range in size from 100 MBH to 4,000 MBH, with efficiencies ranging from 82% to 96%..
For more information, please contact sales@hamiltonengineering.com or call (800) 968 - 5530!
Categories
Equipment / Supplies

Boilers and Related Equipment

Machinery

Ozone Units
Water Heaters, Accessories
Water Softeners
To Top